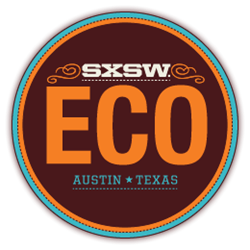 Austin, Texas (PRWEB) October 06, 2014
South by Southwest Eco (SXSW Eco), a conference connecting global sustainability challenges with opportunities for breakthrough solutions, opens today and runs through October 8 in the Austin Convention Center. The event includes a keynote presentation with world-renowned ocean explorer and researcher Dr. Sylvia Earle and three days of informative panels, inspirational speakers, intensive mentor and coaching programs, pitch competitions, workshops, networking events, receptions and more.
Founder of Mission Blue, the Sylvia Earle Alliance and Deep Ocean Exploration and Research Inc, Sylvia Earle is an oceanographer, explorer, author and lecturer. Formerly the chief scientist at NOAA, she has logged more than 7,000 hours underwater earning her the title Her Deepness by the New York Times and Living Legend by the Library of Congress.
Dr. Earle is the strongest voice for oceans the world has ever known, said Chris Sonnier, producer and program manager of SXSW Eco. Combining the highest level thinkers from diverse fields is what SXSW Eco is all about.
Attendees will participate in three days of panel discussions and interactive sessions on pressing environmental challenges. Ocean-related programming includes Dr. Earles presentations on sustainable seas and fish farming. Another session Can We Solve Our Plastic Oceans? features a diverse group of experts seeking innovative solutions to plastic pollution in our oceans. The panel brings together:


Anna Clark, author of the book "Green, American Style" and president of EarthPeople, the first US consultancy to support the Plastic Disclosure Project.
Daniella Russo, CEO and founder of Think Beyond Plastic Accelerator and Innovation Forum.
Tanya Streeter, a world renowned free diver with 10 world records to her name, patron of the Plastics Ocean Foundation and a champion of addressing global ocean pollution.
Michael Usey of PlastiPure, a veteran technology company specialist who has helped bring several breakthrough technologies across a wide range of industries to market.
Moderator: Adam Leipzig, CEO of Entertainment Media Partners and a producer and distributor on more than 25 films including March of the Penguins, Honey I Shrunk the Kids and Dead Poets Society.
Going beyond just exploring the issue of plastic pollution, these leaders will focus on real solutions that regular people can realize to address this epidemic. The discussion will take place in MR 19B at the Austin Convention Center MR from 10:30AM – 11:30AM. For more information, visit http://www.sxsweco.com.
About SXSW Eco
Now in its fourth year, SXSW Eco attracts a global community to explore, engage and co-create solutions for a sustainable world. A uniquely inclusive platform for professionals, SXSW Eco examines the critical challenges of our times through a kaleidoscopic lens of design innovation, policy tipping points, technological breakthroughs, conservation practice, entrepreneurial spirit and a culture of creativity to transform inspiration into action.
About EarthPeople Media
EarthPeople Media is a communications firm and publisher of books and content on business, culture, sustainability and social innovation. Since launching as a consultancy in 2005, EarthPeople has helped startups, NGOs, and Fortune 500s strengthen brand equity, human capital and environmental leadership. Among its services, EarthPeople provides branding, communication strategy, corporate social responsibility reporting, public relations and publishing. For more information, visit http://www.EarthPeopleMedia.com and http://www.EarthPeopleCo.com.